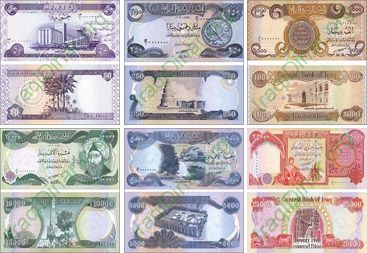 Buy Iraqi Dinar
UCE buy and sell Iraqi Dinar. You can order online, by phone or just simply visit any of our branches and buy the Iraqi Dinar. Fill in our Online Order Form or call us to order any specific bills of Iraqi Dinar that you need.
The Iraqi dinar (currency code: IQD) has been the currency of Iraq since 1932.The dinar was pegged at par with the British pound until 1959 when, without changing its value, the peg was switched to the United States dollar at the rate of 1 dinar = 2.80 dollars. By not following the devaluations of the US currency in 1971 and 1973, the dinar rose to a value of US$3.3778, before a 5 percent devaluation reduced the value of the dinar to US$3.2169, a rate which remained until the Gulf War, although in late 1989, the black market rate was reported at five to six times higher than the official rate. Since Iraq has few exports other than oil, which is sold in US dollars, there is little international demand for dinars, resulting in an extremely high exchange rate compared with other currencies.
About Iraqi Dinar Banknotes
In 2003, new banknotes were issued consisting of six denominations: 50, 250, 1,000, 5,000, 10,000, and 25,000 dinars. The notes were similar in design to notes issued by the Central Bank of Iraq in the 1970s and 1980s. A 500 dinars note was issued a year later, in October 2004. In November 2015, the Central Bank of Iraq announced the introduction of a new 50,000-dinar banknote. This is the first new denomination banknote since the new series was first issued in 2003, and also the largest ever printed by the Central Bank of Iraq.
Order Iraqi Dinar now!
Order any of our available banknotes of 10,000, 25,000 and 50,000 Iraqi Dinars online or by phone to ship to your address anywhere in Canada.
Buy Iraqi Dinar in-person
Visit any of our branches in Toronto or Ottawa to buy Iraqi Dinars in-person. It is better to call us in advance to put a hold.
Currency Exchange Calculator
Get In Touch With Us Today
For all your currency exchange enquiries, please text, call or send us a message below.
Text: You can now contact or order to us by sending a text to 613-596-5505.

Phone: 613-596-5505
Email: enquiry@uexchange.ca
Submit Enquiry
This table provides you a quick comparison between the exchange rates of the big five Canadian banks and ours...Read More

Going on a holiday? Traveling for a business trip? Or just came back home? Ultimate Currency Exchange buys and...Read More

You can order online to make sure that your required foreign currency is available for pickup when you come at our store...Read More